Tuesday, 5th Sep, 2023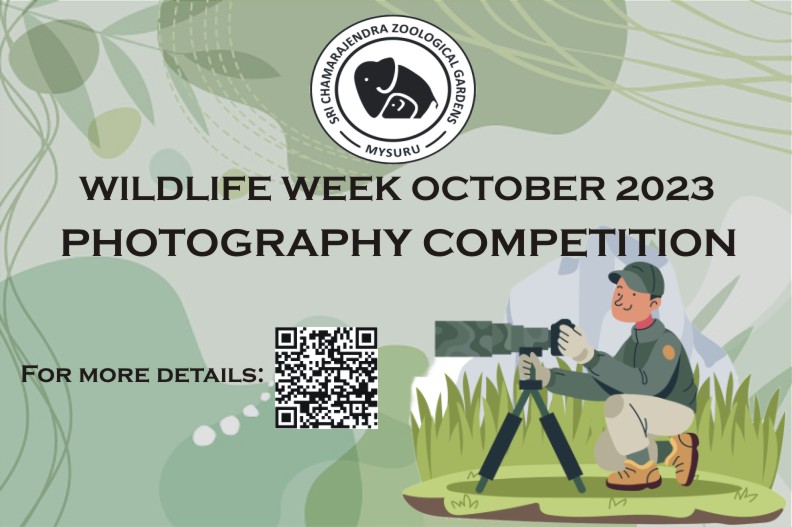 WILDLIFE WEEK 2023 PHOTOGRAPHY COMPETITION
Mysuru Zoo is organizing Wildlife Photography Competition and Exhibition as a part of Wildlife Week celebrations from 2nd to 8th October, 2023. The competition will be held for two categories, i.e., ex-situ conservation and in-situ conservation. Each category consists of 3 cash awards and 4 Certificate of Merit.
TERMS & CONDITIONS:
· Picture size requirements: Only 2 un-mounted photographs measuring size of 12" x 18" will be accepted in each category. Any picture less than this size will be rejected.
· Entry Fee for each section will be Rs.100/- (Rupees One Hundred only).
· For ex-situ conservation category only pictures taken in Sri Chamarajendra Zoological Gardens, Mysore within 12 months prior to 20th September 2023 will be accepted.
· For in-situ conservation category, specify the location where the picture was clicked.
· All photos must be original work, taken by the entrants. The photo must not infringe upon the trademark, copyright, moral rights, intellectual rights, or rights of privacy of any entity or person.
· Photographs which have previously won awards in similar competition will not be considered.
· Photographs of family pets, garden flowers, domestic and hand –reared animals, those in captivity or restrained in anyway will not be considered.
· The photo must be in its original state and cannot be altered in any way like removing, adding, reversing, or distorting the subject within the frame.
· Photographs with borders, frames, watermarks or signatures will not be considered.
· Basic re-touching (brightness, saturation, sharpening and contrast) of images is acceptable as long as the photograph retains its original form.
· Multiple exposure shots will not be accepted. This means the same frame cannot be exposed more than once.
· Photographs of bird's nest and hatchings are not entertained.
· Violators will be removed from the contest, stripped of any prizes.
· By entering and submitting the picture in the contest, entrants agree that photos submitted can be used by the Mysuru Zoo.
· The winners will be contacted via the email address provided during the entry.
· RAW image of the photograph will be verified for genuineness. The RAW image should contain the name of the author embedded in the file itself.
· Award winning photographs of the contest will be displayed as per the convenience of Mysuru Zoo.
· Last date and time for submissions of photographs is 20th September 2023 till 5:30pm only. Submissions will not be accepted once the deadline lapses.
· Photo Submission: Hard copy of the printed photos in 12" x 18" needs to be submitted to office of the Executive Director Sri Chamarajendra Zoological Gardens, Zoo Main Road Indiranagar, Mysore, Karnataka-570010. Soft copy of the same images to be mailed to [email protected]. Soft copy of each image should not be more than 5 mb with 1920 x 1080 resolutions.
· The decision taken by the panel of judges is final.
For more details, contact 0821 -2440752/ 9686668099 during office hours (10:00am-5:30pm) only.
Last date for submitting the entries

20th September 2023

Date of judgment

26th September 2023

Date of exhibition

2nd to 8th October 2023

Place of exhibition

Zoo Library

Timings:10:00am to 5:00 pm
D. Mahesh Kumar, IFS
Executive Director
Sri Chamarajendra Zoological
Gardens, Mysuru